201

6

-201

7

TOP TOPPERS AT HHS

The Top Topper is awarded monthly to an HHS student showing exemplified characteristics in leadership, attitude, and direction. Teachers of HHS nominate students with administration making the final decision.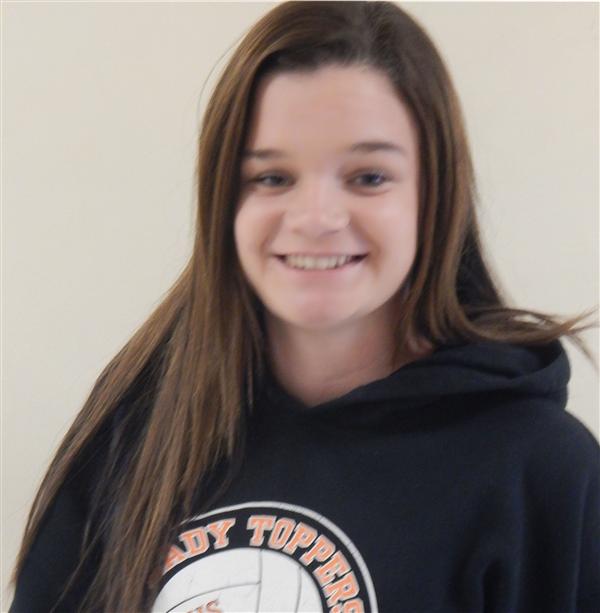 Shania Bess is a senior at HHS this year and she has been named the first senior Top Topper for the year. Shania is the daughter of Pam Scott. Shania's favorite class is Anatomy because she enjoys learning about the body and Mr. Garmon makes it fun. Shania enjoys listening to all types of music but her favorite genre is country, especially Carrie Underwood. Shania's family is who motivates her in life and Shania's advice for other students is to "Do your homework, work hard". Her favorite quote is "Our greatest weakness lies in giving up. The most certain way to succeed is always to try just one more time". After high school Shania plans on attending Lincoln Land Community College to become a licensed practical nurse.
Garrett Stritzel has been chosen the Top Topper for the Junior Class this month. Garrett is the son of Andy and Tracey Stritzel. Garrett's favorite class is Spanish III because it is a very demanding course but the reward of being able to speak another language is worth it. In Garrett's free time he spends it with family and friends. He enjoys reading fictional action books. Garrett is the president of the Class of 2018 and is also involved in choir and football. His parents are his motivators in life and his advice for other students is to not procrastinate, homework piles up fast. Garrett is also inspired by the quote: "F-E-A-R has two meanings: Forget Everything And Run OR Face Everything And Rise. The choice is yours." Garrett would like to give a shout out to Mrs. Boston for always making him laugh and for telling him to quit getting done so fast. After high school Garrett plans to go to college to pursue a degree in architecture.
Alexis Maguire is the sophomore Top Topper this month and the daughter of Robert and Leanne Maguire. Alexis's favorite class is English because she loves to read and being able to discuss the material with others. Alexis enjoys reading, playing video games, and watching Netflix. Alexis also enjoys reading classic books along with any book by John Green. Alexis is active on the tennis team at HHS. She is also the captain on the drill team and a player on the Scholastic Bowl team. In addition she plays the clarinet in the HHS band and sings in the choir. Her favorite music is alternative rock and her parents motivate her the most in life because they push her to do her best. Alexis's advice for other students is to not stress. Alexis says the more you stress the worse it will be. Alexis likes the quote "To define is to limit" from The Picture of Dorian Gray by Oscar Wilde. Alexis would like to give a shout out to Autumn Smith and also thank her for helping me push through her rough times. After high school Alexis plans on going to a four-year college and then enroll in law school to become a prosecuting attorney.
Anthony Cushing is the son of Chris and Clarence Cushing. Anthony's favorite class is Home Economics because he gets to talk about life and one give his thoughts and ideas on topics. Anthony likes to read and play guitar. He also likes to listen to Johnny Cash. Anthony plans on joining FCCLA. Anthony's family and friends help motivate him in life. Anthony's advice for other students is to listen to Johnny Cash because his music is motivational and inspirational with messages that are embedded in the songs. Anthony's likes the inspirational quote "Flesh and blood needs flesh and blood" from the song sung by Johnny Cash. Anthony would like to give a shout out to Mrs. Coleman because she really appreciates student's thoughts and ideas. After high school Anthony plans to get a car, go to college, get a job and raise a family.
Last Modified on October 14, 2016