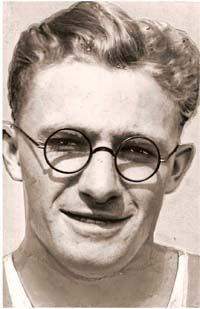 In recognition of
Dr. Harold Osborn, Class of 1918
on his induction to the
Hillsboro High School
Athletic Hall of Fame
November 30, 2004
In 1924, at the VII Olympiad in Paris, Harold Osborn won gold in the decathlon setting a new world record with 7,710 points and giving the title of "world's greatest athlete". Osborn also won gold in the high jump, setting a new Olympic record of 6'6" that stood for 12 years. Osborn is the only Olympic athlete ever to win both the decathlon and an individual event gold medal in the same Olympics. In the 1928 Olympics, Osborn added a bronze medal in the high jump.

During his career, Osborn won 17 national titles and set six world records. He held world indoor records in the standing hop, step, and jump, the 60-yard high hurdles, and the running high jump. In 1934, at the age of 35, he broke the world high jump record with a leap of 6'8 1/2". His world record in the standing high jump of 5'5 3/4" still stands today. He was enshrined as a charter member of the U.S. Track & Field Hall of Fame, along with Jessie Owens.

The 5'10 1/2" Osborn developed a new style of jumping called the "Osborn roll" and later the western roll. This allowed him to roll over the bar horizontally before landing in a dirt pit.



Osborn suffered a childhood injury that caused blindness in his right eye. As a result he had very little depth perception making it difficult to know when to jump when approaching the bar. He compensated by carefully measuring from the take-off point to a point where he began his running approach.



Osborn grew up on a farm in Butler, Illinois. He competed in football, basketball, and track at Hillsboro High School and after graduation went to the University of Illinois. After graduating, he taught at Lewiston High School before taking a job at Champaign High School that allowed him to be near the university to train for the 1924 Olympics.
Last Modified on September 20, 2015