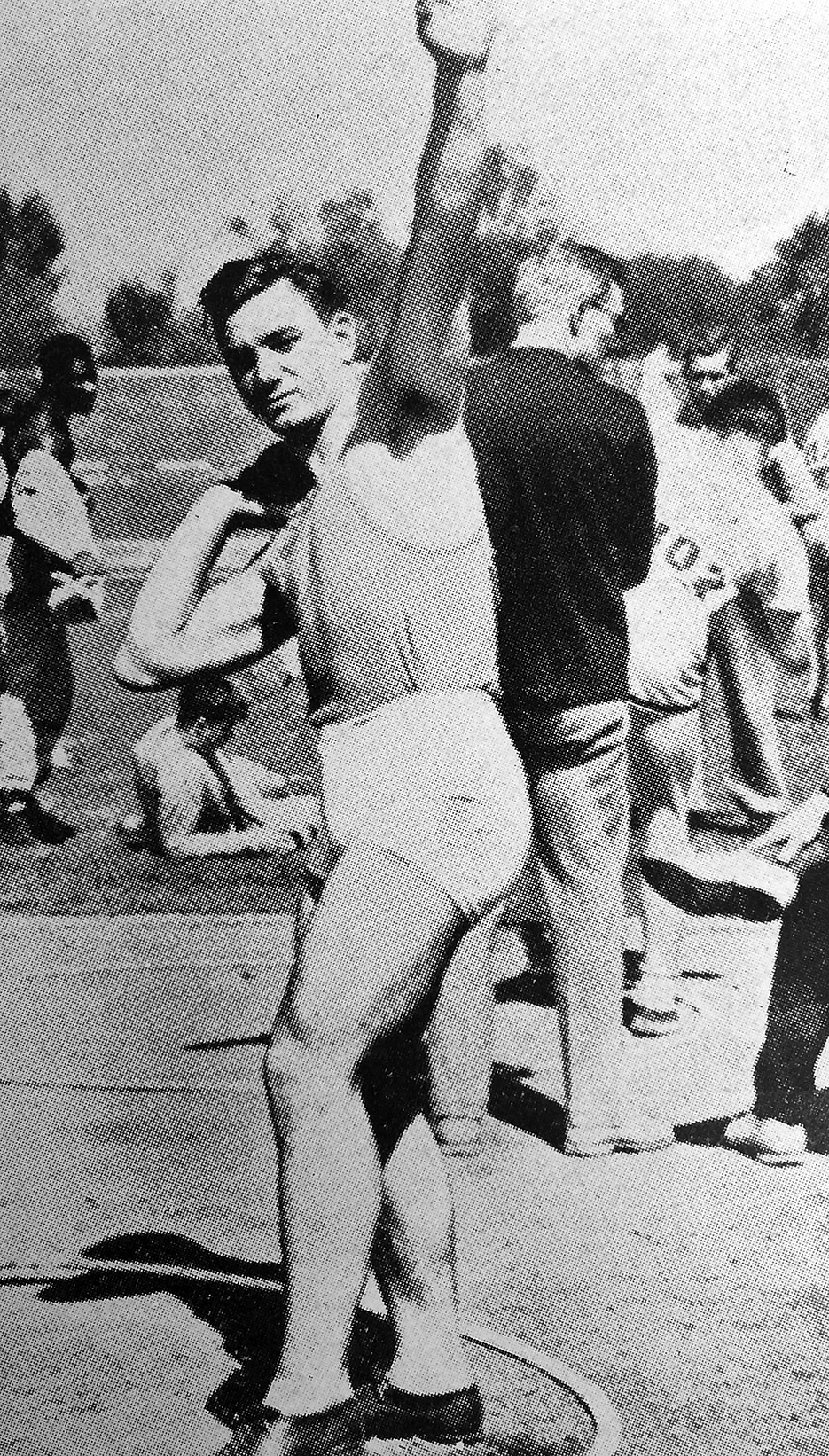 In recognition of
Tony Corso, Class of 1935
on his induction to the
Hillsboro High School
Athletic Hall of Fame
September 6, 2014.
Tony Corso won the state championship in the shot put in 1935 with a record-breaking heave of 53 feet, one-half inch.

According to the Hiltop yearbook, "his stiffest competition came from a star from the New Trier School of Chicago."

That season, "he set new records in the South Central Conference Meet at Taylorville and also broke the record at the District Track and Field Meet held at Edwardsville. In local meets Tony seldom had any competition and usually averaged about 50 feet on his throws. Last year Tony reached the state finals but failed to make the grade. This year he returned to shatter a record that had stood for several years."

He went on to finish third in state in the shot put the following year in 1936.

He was an all-star fullback on a football team that went 7-2 in 1935, and captain of a basketball team that made it to the quarterfinals of the state tournament in 1935 and finished with a 27-9 record.

With eight lettermen–including team captain Corso–returning for the 1935-36 season, hopes were high, but disappointments abounded. Four games into the season, "Tony Corso has probably taken part in his last athletic contest for Hillsboro High School," the yearbook reported. "He is suffering from kidney disorders and complications. An infected leg had been bothering Tony for a week and when it failed to improve, Coach Fearheiley ordered him to rest, and then the forementioned disorders were discovered."

Without Corso, the team still compiled a 19-10 record, and a season that began with the promise of a return to the state tournament came to a conclusion with one of the most bizarre endings in Hillsboro basketball history–a forfeit loss to Morrisonville at the Litchfield Regional due to quarantine.

"The Hillsboro boys will have to wait till next year for another crack at the state title because of their trip to Vandalia," according to the yearbook. "When they returned from Vandalia, (Cecil) Camplin caught Scarlet Fever, and so the state authorities have decided not to let Hillsboro play in the regional tournament in Litchfield!"
Last Modified on September 20, 2015