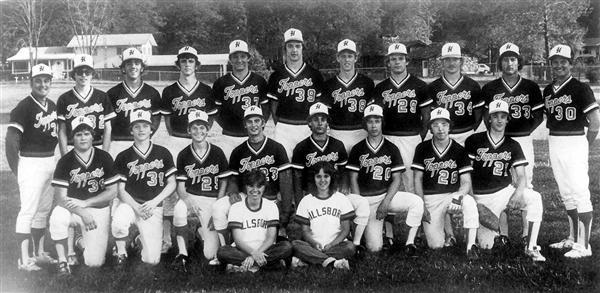 In recognition of

1982 Boys Baseball Team

on their induction to the

Hillsboro High School

Athletic Hall of Fame

September 12, 2015
A season that began with a 13-1 loss to Gillespie ended with a second place finish in the Class A state championship game at Lanphier Park in Springfield for the 1982 Hillsboro High School baseball team, who enjoyed one of the most memorable post-season runs in school history.

With one of their best pitchers on the team not able to throw a pitch that season, Hillsboro entered the Staunton Regional with a 13-9 record. Senior Mark Scheibal, son of coach Harland Scheibal, had injured his knee in the fall just before Hillsboro's first-ever football playoff game and missed the entire baseball season in the spring.

In the regional, Hillsboro beat Vandalia 7-2, Litchfield 6-0, and Staunton 8-2 to win the championship. At the Alton Marquette Sectional, they defeated Williamsville 2-0 then Marquette 4-3 to advance to the state tournament.

Hillsboro's first game at state in the quarterfinals took extra innings to resolve a scoreless tie. Hugh Satterlee pitched seven and two-thirds scoreless innings allowing only four hits, and Greg Smith drove in the game winner in the bottom of the eighth.

In the semifinals, Rich Westbrook, who had picked up the win in the quarterfinals in relief, improved to 11-1 on the season with a complete game one-hitter in a 7-0 win over Massac County. He also drove in two runs in the game, as did Jerry Price.

The state championship game was against Providence Catholic High School in New Lenox. After Providence jumped to a 3-0 lead in the top of the first, Jason Brown singled in the bottom of the inning, advanced to third on two wild pitches, and scored on an error.

Hillsboro tied the score with two in the bottom of the second, but a Providence home run gave them the lead in the top of the third. Hillsboro tied it again when Satterlee drove in a run with a ground ball.

With the score tied, Mike Moroney pitched out of bases-loaded jams in the fourth and sixth innings, but with the score tied at 4-4 in the top of the seventh, Providence scored on an error and then a two-run single to win the state championship 7-4 and finish the season with a 42-16 record. Their coach, Jaime Garcia, went on to work as a minor league pitching coach and still coaches in the Detroit Tigers organization.

Hillsboro finished an incredible season with a 20-10 record and a second place in state trophy.
Last Modified on September 20, 2015