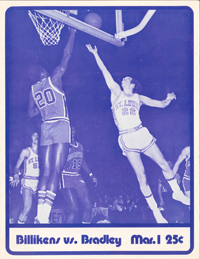 In recognition of
Mark Frailey
on his induction to the
Hillsboro High School
Athletic Hall of Fame
January 9, 2010
Mark played guard for Hillsboro, earning three varsity letters. He was twice named to the Mid-State All-Conference team and received special mention all-state in the Chicago Daily News. He was the leading scorer on the 1969 varsity boys basketball team that finished 20-8

While at Hillsboro High School, Mark set the all-time single game scoring record with 46 points. He is a member of the HHS 1,000 point club, tallying 1,202 points during his career.

Mark went on to play college basketball on an athletic scholarship to St. Louis University. He was a guard on the 1971 team that was inducted into the Billiken Hall of Fame. During his senior year at SLU, Mark earned both a sportsmaship award and special mention to the Missouri Valley All-Conference team.

After graduation, Mark returned to Litchfield as a coach and a teacher before taking the head coaching position at Belvidere High School in northern Illinois. At Belvidere he was named the Big 9 Boys Basketball Coach of the Year in 1992. Mark's girls basketball teams followed up a Final Four state appearance in 1992 with three consecutive Sweet Sixteen finishes.

Mark retired from a teaching career that spanned 32 years. In 1991, he was honored for teaching excellence with a "Those Who Excel Recognition Award."
Last Modified on September 20, 2015