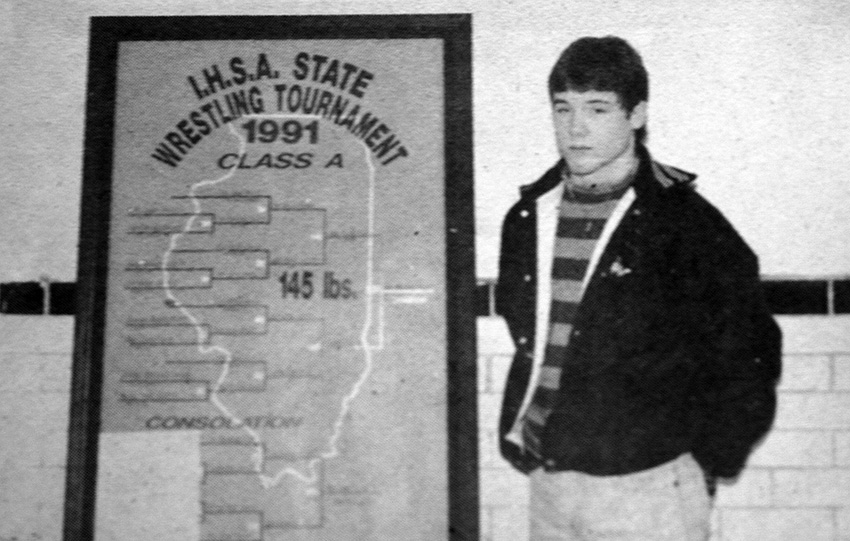 In recognition of
Matt Hughes, Class of 1992
on his induction to the
Hillsboro High School
Athletic Hall of Fame
September 6, 2014.
Since graduating from high school in 1992, Matt Hughes has gone on to international fame in the sports world as one of the most successful world champions in UFC.

As a high school wrestler, Hughes qualified for the IHSA state finals all four years, winning a state championship in 1991 and in 1992 at 145 pounds. He finished the final two years of his high school career undefeated with 91 consecutive wins.

In high school football, he was all conference on offense and defense, rushing for 870 yards as a senior.

He continued his wrestling career in college, becoming a two-time all-American at Lincoln Junior College with an eighth place finish in the county in 1994 and a third place finish in 1995 in the NJCAA National Wrestling Tournament.

He finished his collegiate career at Eastern Illinois University where he was an NCAA Division I all-American, placing seventh nationally in 1996 and fifth nationally in 1997.

His first professional fight in UFC was on Sept. 24, 1999. He eventually won the welterweight world championship in November 2001 and successfully defended the title five times. He regained the world championship belt in October 2004, and successfully defended it twice again.

He finished his Mixed Martial Arts (MMA) career with a record of 45-9 with 25 of those fights in the UFC. He remains third in UFC history with nine title fights.

He is a member of the UFC hall of fame, the Eastern Illinois University hall of fame, Lincoln Junior College hall of fame, and Illinois High School Wrestling Coaches and Officials hall of fame.
Last Modified on September 20, 2015