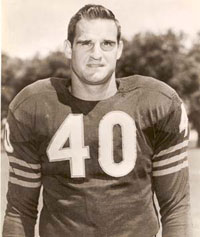 In recognition of
Stan Wallace, Class of 1950
on his induction to the
Hillsboro High School
Athletic Hall of Fame
September 1, 1995
Stan Wallace graduated from Hillsboro High School in 1950. He had many accomplishments through his High School and College career, and later his Professional Career. In 1949, Wallace made the All-State High School Football team. After that he attended the University of Illinois and played on their football team from 1951-1953. Under his presence, the University of Illinois was a Big Ten Champion two of the three years. Wallace held the University of Illinois record for career rushing yards of 11.7 avg. and the season rushing of 12.6 avg. The U of I went on to win the Rose Bowl in 1952 over Stanford 40-7. Wallace holds the Rose Bowl record for longest interception return of 57 yards and most interceptions in a single game with two. Wallace also went to the Senior Bowl and the East-West Shrine Game.

After attending the U of I, Wallace was drafted into the NFL to play for the Chicago Bears from 1954-1959. He was the Bears' #1 draft pick choice and was #6 overall. Wallace went to the NFL World Championship game in 1956 where the Bears played the New York Giants. Wallace was named All-Pro Defense in 1958 in the NFL and All-Pro Defense in the Canadian League in 1960-61.
Last Modified on September 20, 2015