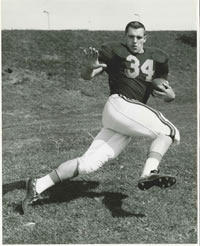 In recognition of
Tony Parola
on his induction to the
Hillsboro High School
Athletic Hall of Fame
September 25, 2009
Tony Parola was the youngest of three sons of Frank and Anne Parola of Taylor Springs. Throughout his childhood, Tony and his brothers, Tex and Jerry, engaged in a fierce sibling rivalry to see who could run faster, throw harder, and hit a baseball farther. It was in the yards and on the streets of Taylor Springs that Tony developed the fierce competitive spirit that served him so well throughout his athletic career.

At Hillsboro High School, Tony participated in four sports, earning a total of twelve varsity letters - three in football, two in basketball, three in baseball, and four in track and field. Tony played both tailback and linebacker on the undefeated 1961 South Central Conference championship football team and earned both All-State and All-American honors in football his senior year.

To say that Tony also excelled in track is an understatement. He set the school record in the long jump and broke his older brother Jerry's record in the 100 meter dash. He also established school records in the shot put and the discus that still stand today, forty-seven years later. In his senior year, Tony won first place in four different individual events to lead his team to the South Central Conference championship.

Tony received a full scholarship to the University of Illinois where he lettered in both track and football. He played fullback and linebacker on the 1963 Big Ten Conference Championship team and fullback on the 1964 Rose Bowl Championship team playing alongside All-American's Dick Butkus and Jim Grabowsky.

After playing at the U of I Tony was drafted - but not into the professional football league. Tony served his country honorably in the Vietnam War as a sergeant in the 101st Airborne Division flying as support crew on a military helicopter.

After his military service had ended, Tony continued his athletic career as both teacher and coach at Auburn High School which led to his induction into the Illinois High School Coaching Hall of Fame. Once again Tony's career was cut short when he succumbed to cancer in 1981.
Last Modified on September 20, 2015