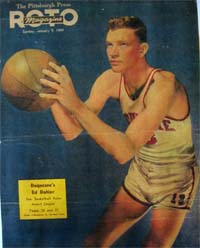 In recognition of
Ed Dahler
on his induction to the
Hillsboro High School
Athletic Hall of Fame
February 21, 2003
Ed Dahler was honored for his numerous achievements in the sport of basketball at the Hillsboro High School, Duquesne University and the professional level.

While a prep star at Hillsboro High School, Ed earned 1st Team All-Conference honors in the South Central Conference. He was also named to the Springfield State-Journal Register Central Illinois All-Star 1st Team.

After serving two years in the military during World War II, Ed went on to a distinguished career at Duquesne University. He was a Collier's All-American in his senior year and was named to the 1st Team of the NCAA Eastern District All-Stars. Ed was the leading scorer on the 1949-50 Dusquesne team that finished 4th in the prestigious NIT tournament at Madison Square Gardens. He was the first Duquesne player to exceed 1000 points and established a single season scoring record of 474 points in his senior year. Ed toured with the College All-Stars against the Harlem Globetrotters. Ed is a member of the Duquesne University Hall of Fame.

After his distinguished college career, Ed went on to play professional basketball for the Denver Frontier Refiners where he was the leading scorer. He also played for the Waterloo Hawks and the Philadelphia Warriors.
Last Modified on September 20, 2015