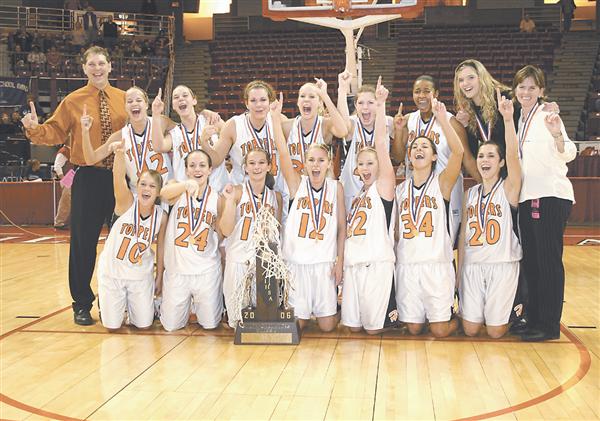 In recognition of
State Champion Girls Basketball Team, 2006
on their induction to the
Hillsboro High School
Hall of Fame
September 6, 2014
2006 Girls Basketball Team
Hillsboro defeated Okawville 44-43 to finish the 2005-06 season with a state championship and a 31-4 record.

The team included the two most prolific scorers in Hillsboro High School history: Hope Schulte, who ended her high school career in 2007 with 1,969 points, and Maria Pretnar, who scored 1,652. The roster was full of athletes: Lauren Daniels, Sarah Puckett, Stacie Liebscher, Brooke Beeler, Mallory Zimmerman, Alex Ginos, Ashley Wallace, Blair Cullison, Jenna Young, Katie Homa, and Shan Liddell. The team was coached by Bret Tuetken with assistants Shonda Ronen and Lisa Green.

After the team opened the season with an 81-42 win over Roxana, it was off to the tough Taylorville Round Robin, and after back-to-back losses to Collinsville and Taylorville, Hillsboro had a 3-2 record. From then on, the team piled up wins with only two more losses, Dec. 17 to Breese Mater Dei, and Jan. 19 to Okawville at the Highland Tournament. Of course, Hillsboro avenged that loss to win the state title.

Hillsboro entered the post-season at the Macon Meridian Regional where they beat Arthur 55-34, then Pawnee 68-43 to win the regional title.

At the Central A&M Sectional in Moweaqua, Hillsboro beat Neoga 44-38 and Pana 55-49 for the title, then advanced to the state finals by downing Rochester 40-31 at the Decatur Supersectional played at Millikin University.

At the state finals played in Redbird Arena on the campus of Illinois State University in Normal, Hillsboro beat Byron 55-41 in the quarterfinals, Carthage 50-33 in the semifinals, and Okawville 44-43 to hoist the state champion trophy.

Schulte was the state tournament's leading scorer with 62 points, and Pretnar was fourth with 43 points. Puckett scored 21, Daniels eight, Liebscher eight, Zimmerman six, Liddell three, Beeler one, and Homa one. Every member of the team played in the state tournament.

Two members of the team, Beeler and Pretnar, went on to win state titles in other sports.
Last Modified on September 20, 2015