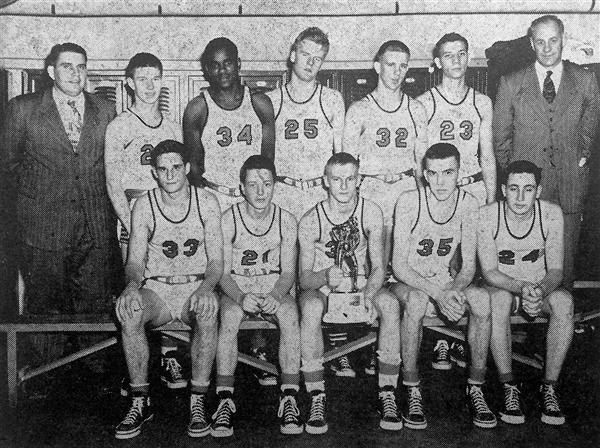 In recognition of

1949 Boys Basketball Team

on their induction to the

Hillsboro High School

Athletic Hall of Fame

September 12, 2015
1949 Boys Basketball Team
Likely the most storied team in Hillsboro High School history, the 1949 boys basketball team finished second in state.

Storied? Even the 1949 Hiltop yearbook takes 14 pages to record the team's accomplishment.

Hillsboro had made it to state the previous year, but finished the season with a 20-6 record after a 61-44 Sweet 16 loss to LaGrange Lyons.

After the 1948-49 regular season, Hillsboro entered post-season play with a 17-5 record, but hosted both the regional and sectional tournaments. In the regional, they defeated Litchfield 61-31, Mt. Olive 60-45, and Gillespie 55-40 to win the championship.

In sectional play, Hillsboro avenged an earlier loss by beating Taylorville 40-35 in the semifinals. The championship game was against the sectional's Cinderella team, Brownstown, who had drilled East St. Louis Lincoln (remember, this was the days of only one class in basketball) 80-63 in the other sectional semifinal. Hillsboro, though, had little trouble in a 63-39 sectional championship win.

Coach Fred Ewald's crew traveled to Huff Gym in Champaign to face Champaign in the Sweet 16. Charley Boston tied the game 36-36 with a free throw with five seconds left in the fourth and the game went to overtime. In overtime sophomore Bill Helfer, "almost trapped once as Champaign pressed all over the floor, took off to the right of the free throw circle and scooped the winning points right through," according to the 1949 yearbook. Boston scored 13 points in the game and Hillsboro hall-of-famer Buzz Ott added 12.

Hillsboro beat Pekin 45-49 in the quarterfinals with hall-of-famer Stan Wallace on the bench with an ankle injury suffered in the Champaign game. Ott scored 15 in the game and Richard Sturgeon had 11.

Wallace was hobbled but back in the line-up when Hillsboro faced 34-1 Nashville in the semifinals, but it was Ott who scored 20 points leading the Hiltoppers to a 50-43 win. Sturgeon scored 12 and Wallace added eight.

Hillsboro led Mt. Vernon 20-19 at halftime in the state championship game, but Mt. Vernon's 6-5 sophomore star Max Hooper scored 16 of his 21 points in the second half and the Hiltoppers, led by 11 each from Ott and Sturgeon and 10 from Wallace, finished second after a 45-49 loss.

Hillsboro finished the incredible run with a 25-6 record and a second place in state trophy.

Mt. Vernon, with a freshman and sophomore on the all-tournament team, went on to repeat in 1950 with a 33-0 record.
Last Modified on September 20, 2015