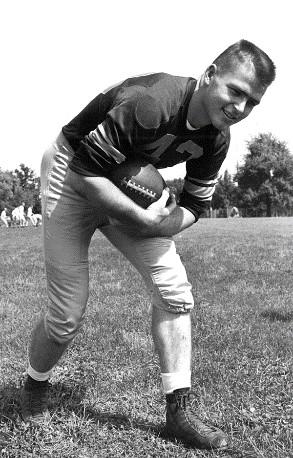 In recognition of

Cecil Hart, Class of 1954

on his induction to the

Hillsboro High School

Athletic Hall of Fame

September 12, 2015
Cecil Hart, who passed away in 2009, was a 1954 graduate of Hillsboro High School who lettered in football, basketball, track and baseball.

He started on the 1952-53 basketball team that finished the regular season with a 7-16 record but made a post-season run that ended with an overtime loss to Jacksonville at the state tournament. As a senior, he played on a Hiltopper basketball team that compiled a 22-6 record while sharing the Mid-State Conference title and winning the Pontiac Holiday Tournament.

He attended the University of Illinois on an athletic scholarship for one year, then transferred to Southern Illinois University at Carbondale where he made the football team as a walk-on and ended up lettering all three years.

His senior year at SIU-C, he was team captain, MVP, and led the team with 550 yards on 148 carries while playing fullback. He was also all-conference in the Interstate Conference and helped the team compile a 7-2 record.

After graduation, he taught and coached at Greenville for one year, then returned to Hillsboro to teach and coach where he led the Hillsboro football team to 61 wins.

After 18 years in the classroom, he left teaching and went to work for CIPS at the Coffeen Power Station and retired from there.
Last Modified on September 20, 2015