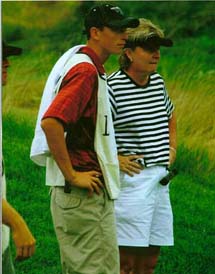 In recognition of
Mary Beth Zimmerman, Class of 1979
on her induction to the
Hillsboro High School
Athletic Hall of Fame
February 5, 1999
Amateur Mary Beth Zimmerman qualified for the State Golf Tournament from 1976 to 1978. In 1978 she finished in second place in individuals. In 1980 she won the Mid-Amateur National Championship in Colorado Springs, Colorado. While attending Florida International University in Miami, she won the Collegiate State Championship and was named First Team All-American Division 1.

In 1983 her professional career began. She toured qualifying schools in Houston, Texas and finished 4th out of 256 entries. In 1984 she attended the State Farm Rail Classic in Springfield and set LPGA record which still stands today. She had 8 consecutive Birdies and 8 under par 28 for 9 holes. She won the Samaritan Turquoise Classic in Phoenix, Arizona in 1986; the Uniden LPGA Classic in Los Angeles, California in 1986; and the Henredon Classic in Charlotte, North Carolina in 1987. In 1995 she won the State Farm Rail Classic in Springfield coming from 7 shots back on the final day. In 1996 she was in the St. Louis Michelob Classic and scored a Double Eagle, and in 1997 she was in the Dinah Shore LPGA in Palm Springs, California to set a course record with 9 under par 63.
Last Modified on September 17, 2015