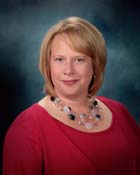 Phone:
Email:
Degrees and Certifications:
Mrs.

Ann Tester

After graduating from the University of Illinois in Urbana-Champaign, I taught second grade for three years before moving to Montgomery County in 1997. I live out in the country nestled near three towns. From my house, I can see parts of Nokomis, Witt, and Irving. I live in a farmhouse with my husband Dan and our two kids. I also have two dogs in my family. We all have a deep appreciation for education, farming and country living.

My two kids are several years older than a fifth-grader. My youngest child Claire is seventeen. She is a senior at HHS. You might have seen her on the basketball court because she has been a varsity player since she was a freshman. Claire was a starting member of the girl's basketball team that went to the State Finals two years ago. This year she is working at Beckemeyer for the A.S.K. Program. My son Peyton is twenty-one years old and an H.H.S. graduate. He is a junior at the University of Illinois in Urbana-Champaign where he majors in agricultural finance. At the U of I, Peyton is involved in an honor society, club sports, and other organizations.

My favorite hobby as a kid has become my favorite subject as a teacher. Reading has always been something that I have enjoyed, but now I also love to teach it! I am very enthusiastic about reading and writing. Books have wonderful themes, plots, and characters that lend themselves to great discussions. Writing about what I read or what I have learned is also a lot of fun for me. My passion is sharing this love of reading and writing with my students. I believe everyone can succeed, they just need someone to show them the path.
Last Modified on August 18, 2020