Parents of HCUSD3 Students, please take a few minutes to take this brief survey that will help us plan for the reopening of our schools this fall.
To view the Hillsboro Community Unit School District live board meeting for June 9, 2020, please click here.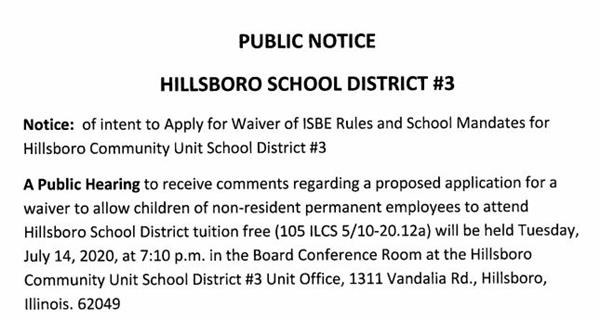 Posted June 29, 2020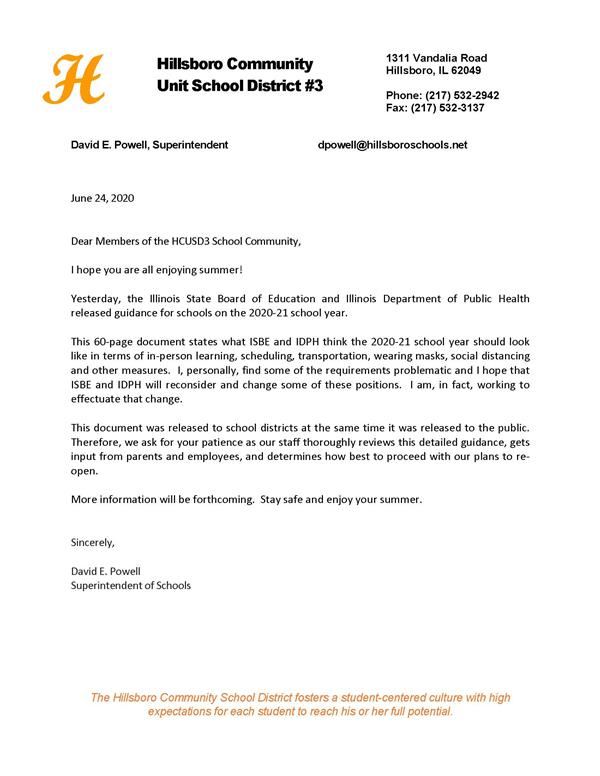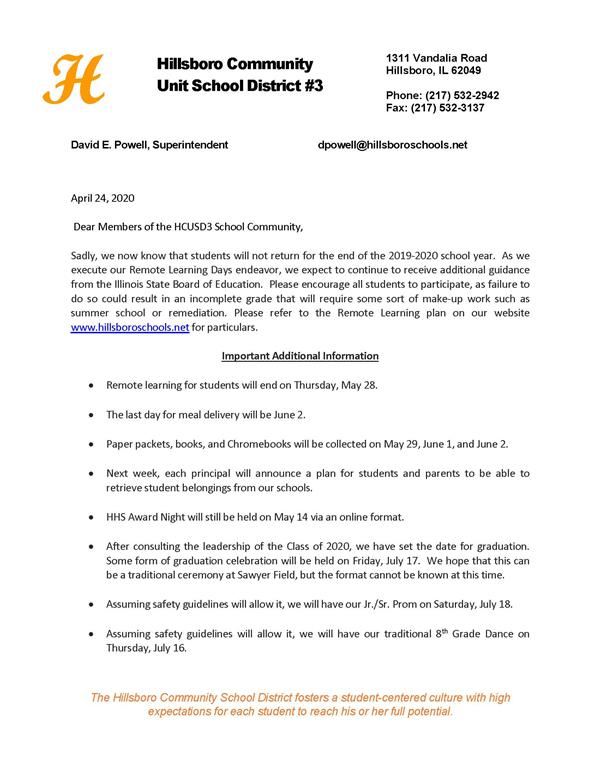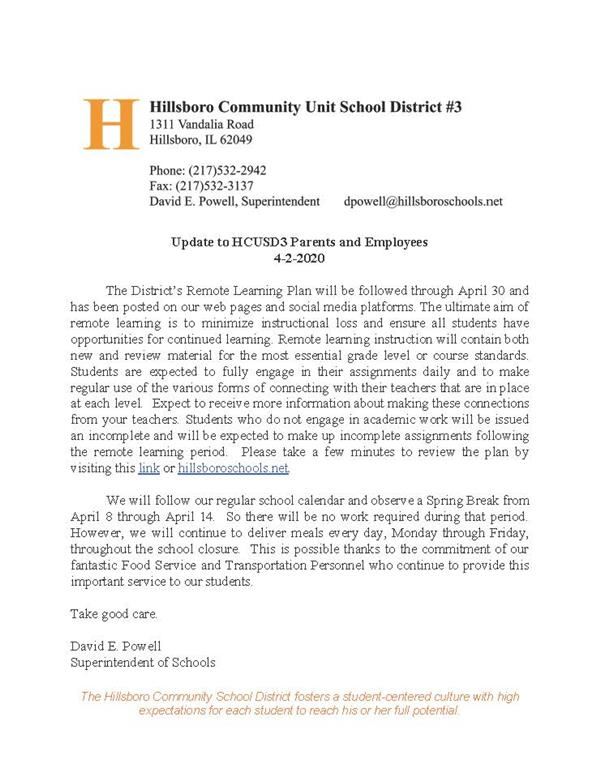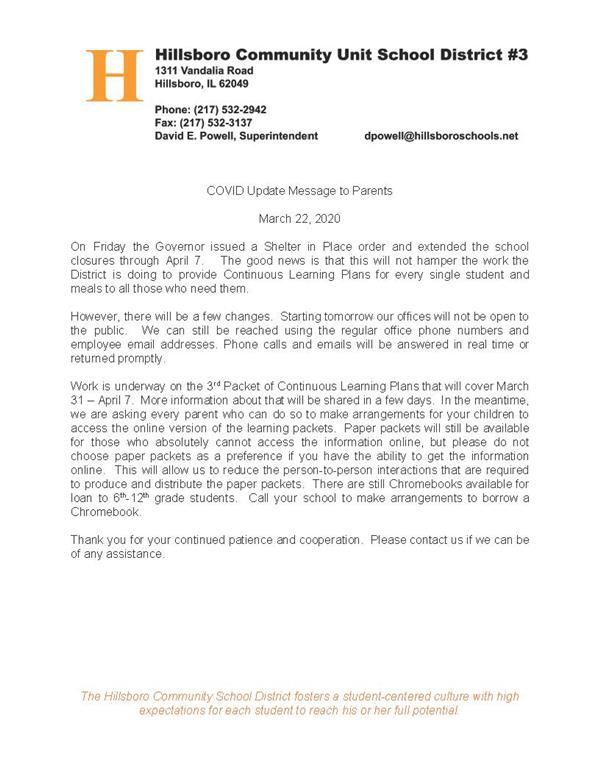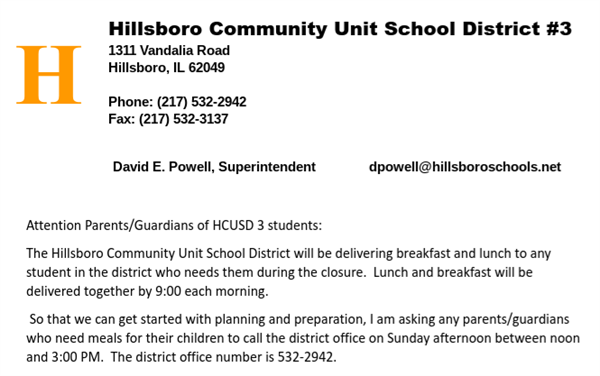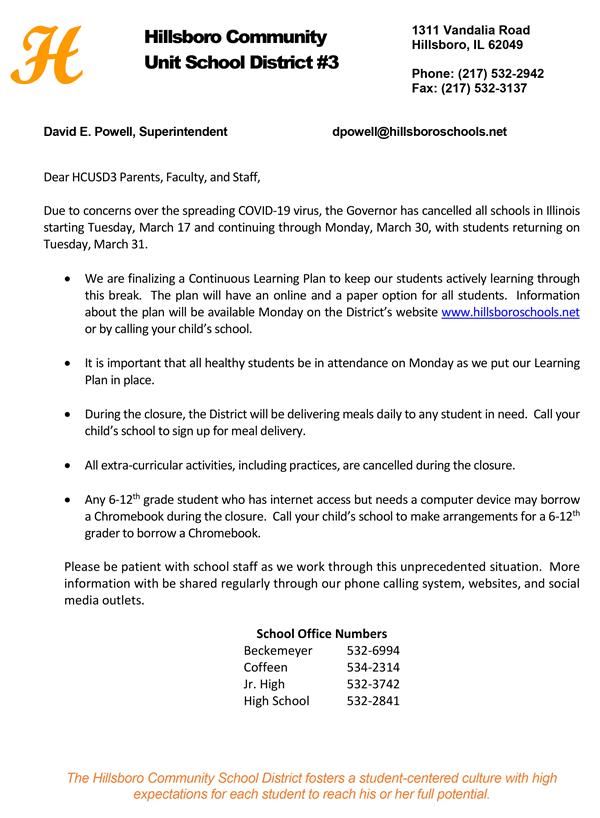 2019-2020 Hillsboro Community School District No. 3 Calendar
THANK YOU
Hillsboro Community School District No. 3 is committed to creating a great place for students to learn, teachers to teach, staff to work, and for parents to send their children to receive a great education. To build on this commitment, the leadership of the school district gathers and analyzes data on essential goals and measures, including Parent Satisfaction.
The Parent Satisfaction Survey was administered to all parents/caregivers with a child in the school district to assess the level of satisfaction parents have with their child's school. Collecting feedback from parents/caregivers allows leaders to recognize the good work that many school leaders, teachers, and staff accomplish every day, and to identify gaps in performance that should be addressed. Thank you to the parents/caregivers who took the time to complete the survey.
Click here to see the results of the 2019 HCUSD#3 Parent Satisfaction Survey
CONSOLIDATION FEASIBILITY STUDY
The Montgomery County School Study Commission and the Montgomery County Economic Development Corporation have commissioned a study to investigate the feasibility of school consolidation in Montgomery County. The full report and the slide from the recent public meeting are below.
STRATEGIC PLAN
The Hillsboro CUSD3 has undertaken a strategic planning initiative to help chart a course for the future of the district. This strategic plan will help us focus and prioritize improvement efforts and help ensure that we are all working together in a cohesive manner. The strategic plan will also serve as a tool to communicate our goals to all stakeholders. This plan is the result of a six month process that began in January when the District invited 14 stakeholder groups to participate in focus group sessions to provide valuable insight and information regarding the future expectations and challenges of the school district. Click on the link below to view the strategic plan.

FOOD ALLERGY MANAGEMENT PROGRAM
While it is not possible for the District to completely eliminate the risks of exposure to allergens when students come to school, a cooperative effort among students' families, staff members, and students helps the District reduce these risks and provide accommodations and proper treatment for allergic reactions.
PAYING ONLINE SCHOOL FEES
Hillsboro CUSD #3 offers a more convenient way to pay all school fees including athletics, food service, registration, activities, etc.) ). You can choose to pay online or at the school offices with a credit/debit card, cash, or checks.
Visit the secure Web Store: hillsboroschools.revtrak.net

Refer to the Online Payment Guide.

Pay with credit or debit card

Check your e-mail for order confirmation.