Dr. R. Joe Campbell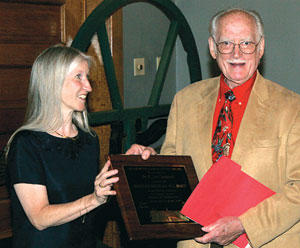 A man who has devoted much of his life to the English documentation of a language spoken by the Aztecs was honored as the 2008 Distinguished Alumni by the Hillsboro Educational Foundation Thursday at their annual banquet at Church Street Pub. A member of the Hillsboro High School class of 1950, Dr. R. Joe Campbell has spent his career studying Nahuatl, the language of the Aztec Indians before the Spaniards landed in Central America. Nahuatl is still spoken in Mexico by over a million Mexican Indians, but the language is completely unrelated to Spanish.

"I sincerely thank you for this evening," Dr. Campbell said. "It's given me the opportunity to not only say thank you to the foundation, but to the educational system that supplied my foundation." Dr. Campbell is the 11th recipient of the Distinguished Alumni Award, and the second from the class of 1950. He was introduced Thursday at the banquet by classmate and 2001 award winner Harry "Bud" Kelley. "Our awardee tonight has brought great credit to our education system here," Kelley said.

Before Dr. Campbell began his work in Nahuatl, the most authoritative work on the language was 400 years old, compiled by Franciscan friars to help Christianize the Nahuatl speakers. In 1970, Dr. Campbell began work on the first English translation of a Nahuatl dictionary that was written in 1571 by Alonso de Molina. He then analyzed each word into its component parts and published The Morphological Dictionary of Classical Nahuatl in 1985.

Dr. Campbell then spent the next 23 years merging the contents of Molina's dictionary with The Florentine Codex, a 12 volume encyclopedia in Nahuatl about the Aztec world, written by Bernardino de Sahagun between 1540 and 1585. When complete, Dr. Campbell's work will provide Nahuatl scholars with an analyzed vocabulary of over 90,000 words.
"Why? I don't know," the award winner said in explaining his passion for the language. "I can't give any excuse for my behavior. I have always been fascinated by language, and I'm a pack rat; I like to collect and sort."

Traveling to Mexico nearly every summer, he has also extensively documented modern dialects of the language.
"The learning involved no grammar book," he said. "It involved a pencil and paper and asking one word at a time."
At the banquet, he read a poem in Nahuatl and provided a list of several of the language's contributions to English, including chocolate (xocolatl, literally, "soured water"), and guacamole (ahuacatlmolli, literally and quite accurately, "avocado sauce"). Dr. Campbell thanked his mother, a first grade teacher "in love with education," and his
teachers at Hillsboro High School. "I can still remember moments when I felt like I was the focus of their fire."
Dr. Campbell earned his undergraduate degree at Eastern Illinois University, and his graduate degrees at the University of Illinois.

In addition to Kelley, joining him at the banquet were classmates Lamar Loucks and Lyn Lingle, who referred to Dr. Campbell as "Indiana Joe" and presented him with an Indiana Jones hat on behalf of the class of 1950.

First Community Bank also presented their Golden Apple Award to speech pathologist Jeanne Winkler.
"She has become a leader in her field," Tom Gooding said in presenting the award. She has taught in the Hillsboro School District for 29 years and works with over 80 students.
-Photos and article courtesy of The Journal-News